Kelly and Charlie Tie the Knot!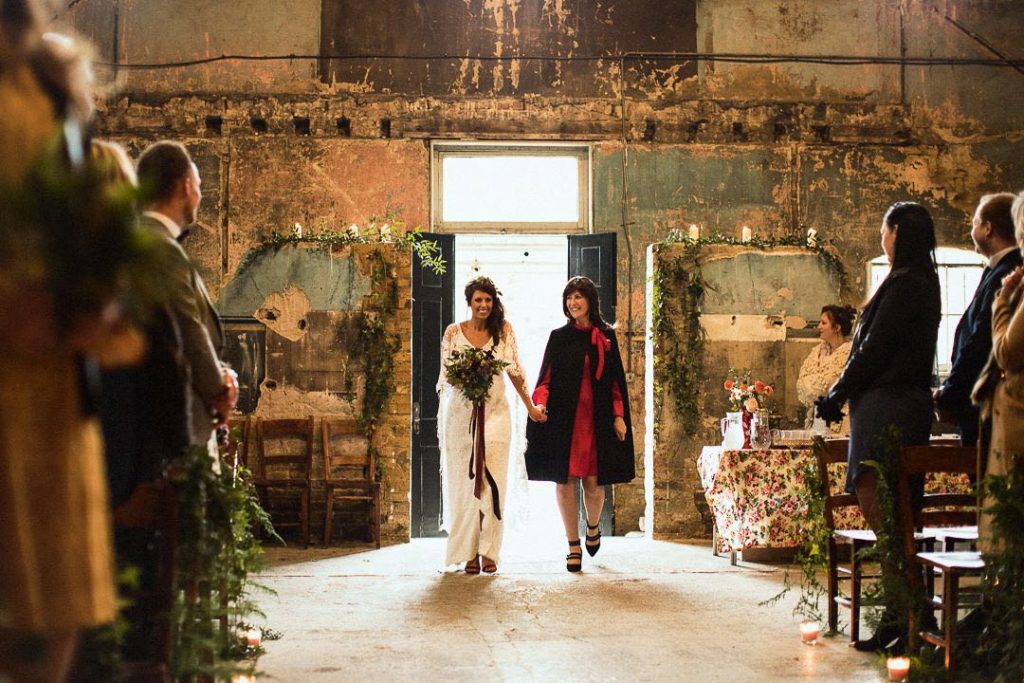 On Saturday 27th January 2018, Anya's daughter, Kelly, married Charlie Smallpiece at the beautiful Asylum Chapel in Peckham,
followed by a reception at the Tanner Warehouse.
With a 'boho' twist, Kelly and Charlie kept their day relaxed and informal, surrounding themselves with their most loved family and friends. Music was a key element to the wedding, too. London gig venues ran through the table names, records as favours, lyrics dotted around and live music throughout their reception and in to the evening.
Kelly wore a gorgeous, flowing lace gown from the sumptuous 'Grace Loves Lace', a brand focusing on the unique bride looking for an alternative look. She wore her dress effortlessly, and her bridesmaid entourage complimented her look perfectly with muted yellow tones in assorted styles. All ladies, including Kelly herself, topped off their looks with the iconic black leather jacket!
Charlie brought his look together with a fantastic suit jacket from 'Noose and Monkey'. The two looked perfectly matched, both to each other and their venues as they met at the end of the aisle.
'Anya was there every step of the way for Kelly'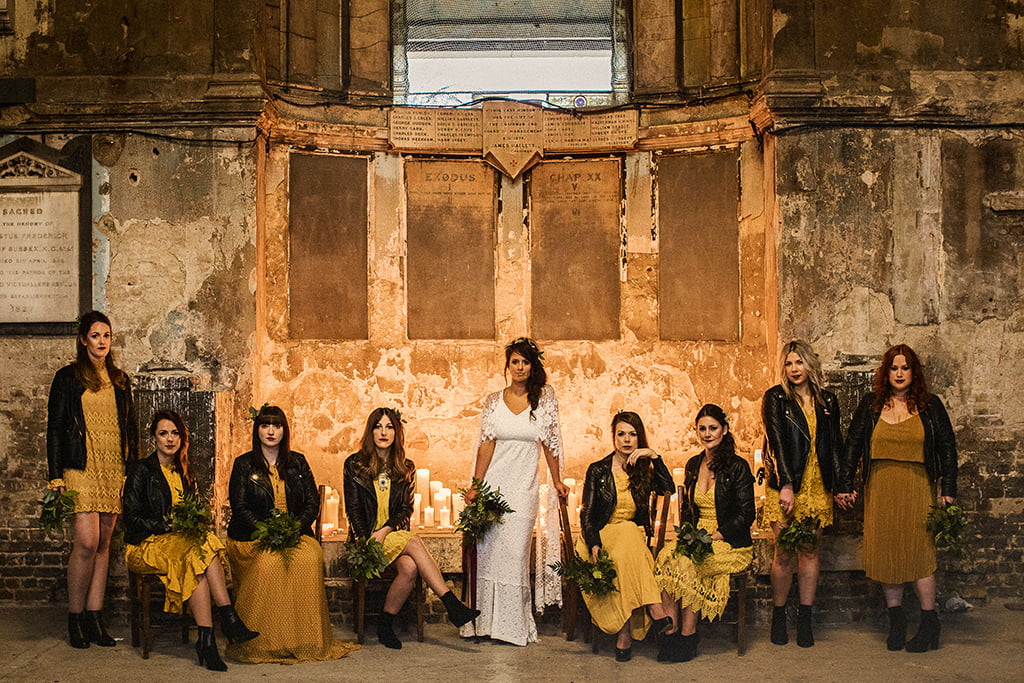 Kelly and her Bridal Party ooze boho glamour in their mismatched styles and leather jackets. Image: Matt Parry Photography.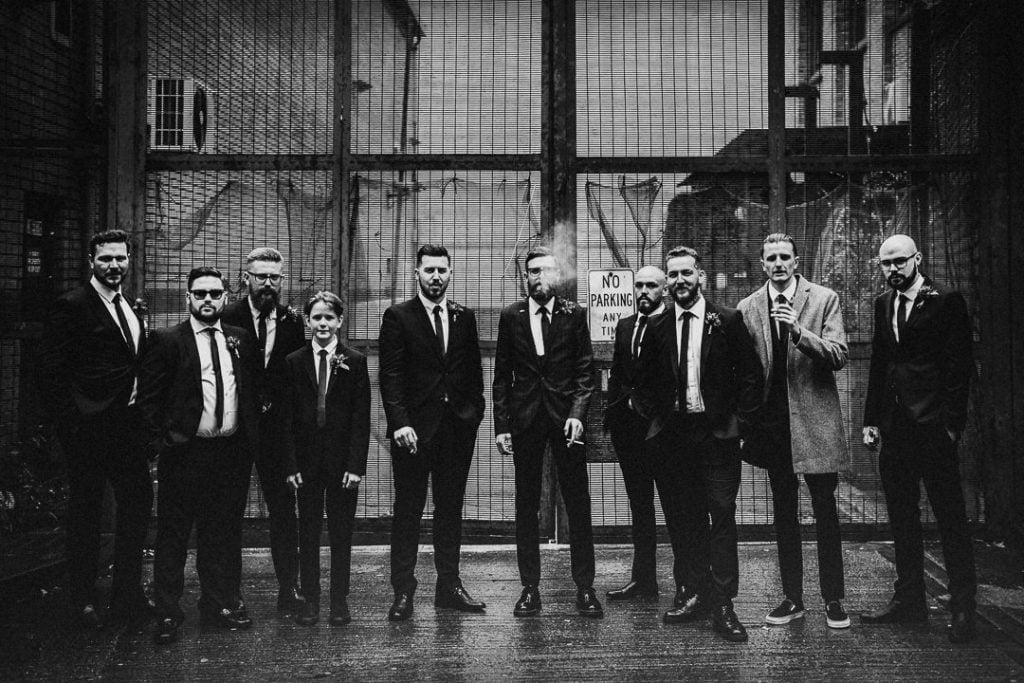 Charlie and his Groomsmen take a breather outside. Image: Matt Parry Photography.
Anya was there every step of the way for Kelly, holding her hand as she made her way down the aisle. A moment perfectly captured by the talented Matt Parry Photography. She still managed to work those heels, despite having tumbled down a flight of stairs just days before the big day!!
The rest of the evening rolled on in good spirits, brilliantly started off by a Rock 'n' Roll Tea Party style reception where Bailey's miniatures were handed to each guest, alongside tea and coffee. Music filled the venue from several talented musicians; none more so than Charlie's brother, Jack, who surprised the newlyweds and their guests with a song written just for them.
Kelly and Charlie didn't hang around and wait for excitement to find them after the wedding day. They were soon jetting off to tour America and find adventure round every corner, from the bustling, ever-bright Las Vegas to the deserted and untouched landscapes of Yosemite, Moab Utah and Colorado.
All of us here at Anya Bridal would like to take the opportunity to offer the new Mr and Mrs Smallpiece our most heartfelt congratulations and best wishes for their married life together.
Good Luck!!
xx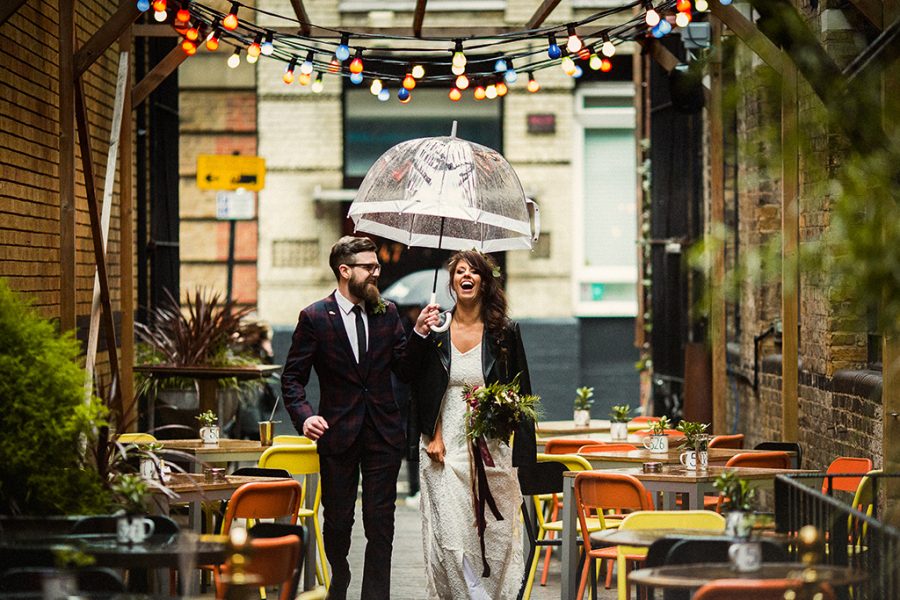 Image: Matt Parry Photography.