Silhouettes!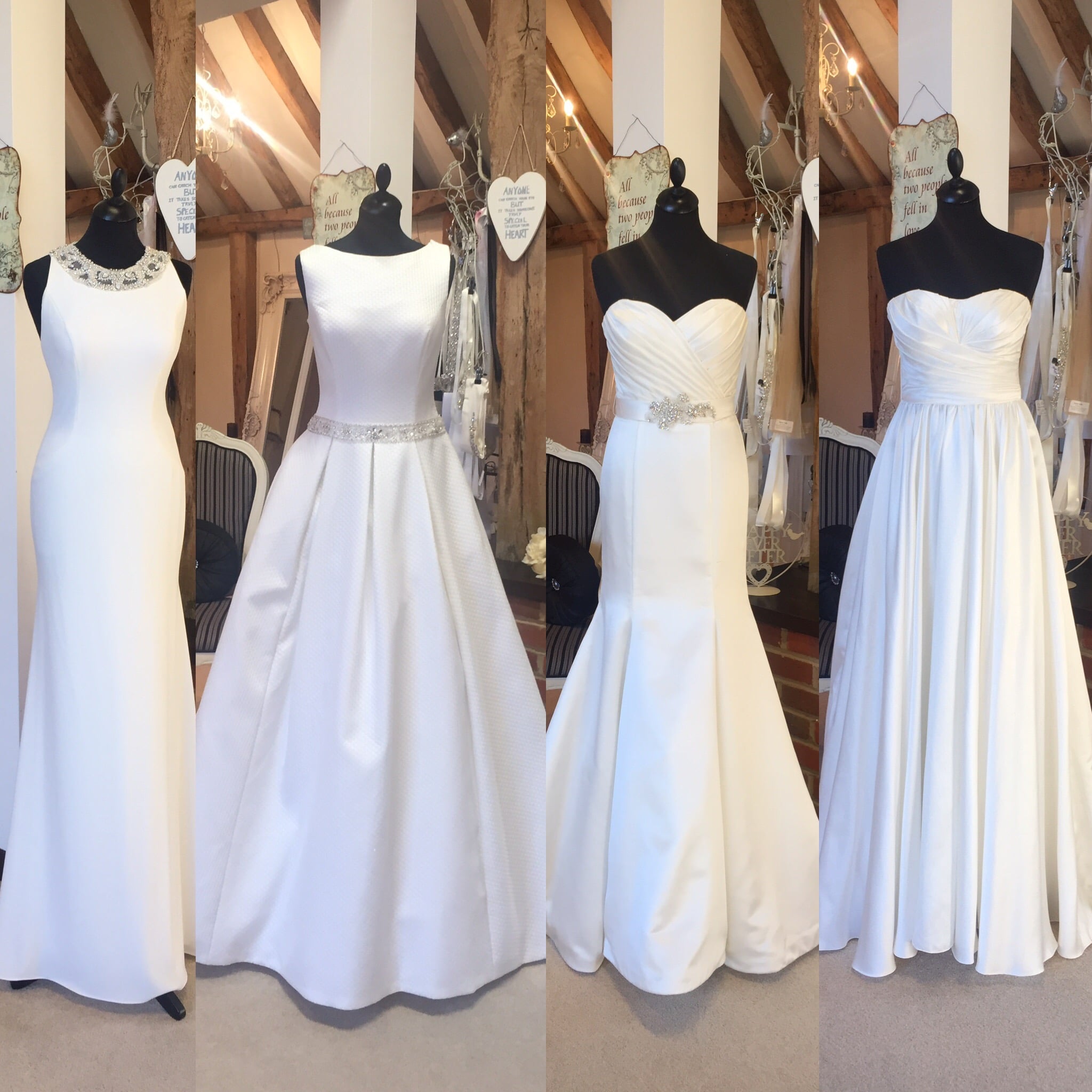 I hope you have all managed to have a think about a few of the things I mentioned in my previous post with regards to starting your dress search.
One of the main things you need to consider when you begin your hunt is Silhouette.
There are 5 key silhouettes for you to keep in mind.
1 – The Ball Gown aka The Princess Dress.
This style is still as popular as ever and is for the fairy tale bride, nipping you in at the waist with a big dramatic skirt! Be careful if you are petite as you risk being swamped by the dress.
2 – A-Line.
Similar in shape to the ball gown, the A-Line will again, nip in at the waist and skim over the hips in to a full skirt but not to the extreme size of the ball gown. This shape is flattering on most figures.
3 – The Fishtail aka The Mermaid.
This figure hugging silhouette is designed to show off all of your curves. This shape generally has a lot of structure throughout the bodice and down to the thigh to keep it close to your body then kicks out at the thigh to give the definitive fish tail. Many brides are concerned about restrictions on movements when wearing a fish tail but the best way to look at it is how you would differ in movement when wearing a maxi dress versus a pencil skirt. You can still do everything you want to do; you just do it more considerately.
4 – The Fit n Flare.
This silhouette is a less extreme version of the fishtail. It's still fitted through the body and flares out at the bottom but the lines are much softer and there is generally less structure throughout the bodice, giving a more fluid look.
5 – The Sheath or Column.
This silhouette is more relaxed in style. Fitted in the bodice with little structure, then flowing into a soft skirt which just drops to the floor, this silhouette is very popular as it's neither fitted nor full and is ideal for a less formal wedding.
Now, before you try any dresses on, try not to rule anything out as you never know what will work on your body.
Bridal gowns are designed completely differently to any other item of clothing you will ever own.
The amount of hidden structure and support within each dress will surprise you so please don't think you have to go for one style or that you can't wear a particular silhouette. I would hate for you to miss out on your dream dress because you are closing your eyes to them.
It's all about creating balance and proportion for your body and the right dress will do this for you and show you off to your very best.
We women are so hard on ourselves at the best of times; try to make shopping for your wedding dress the most positive experience and one you will remember.
Love
Lauren x